Biofuel to Power ADNOC Distribution's UAE Vehicle Fleet, Championing Sustainable Transportation.
Milestone aligns with the UAE's Net Zero by 2050 strategic initiative by contributing to reducing emissions from the transportation sector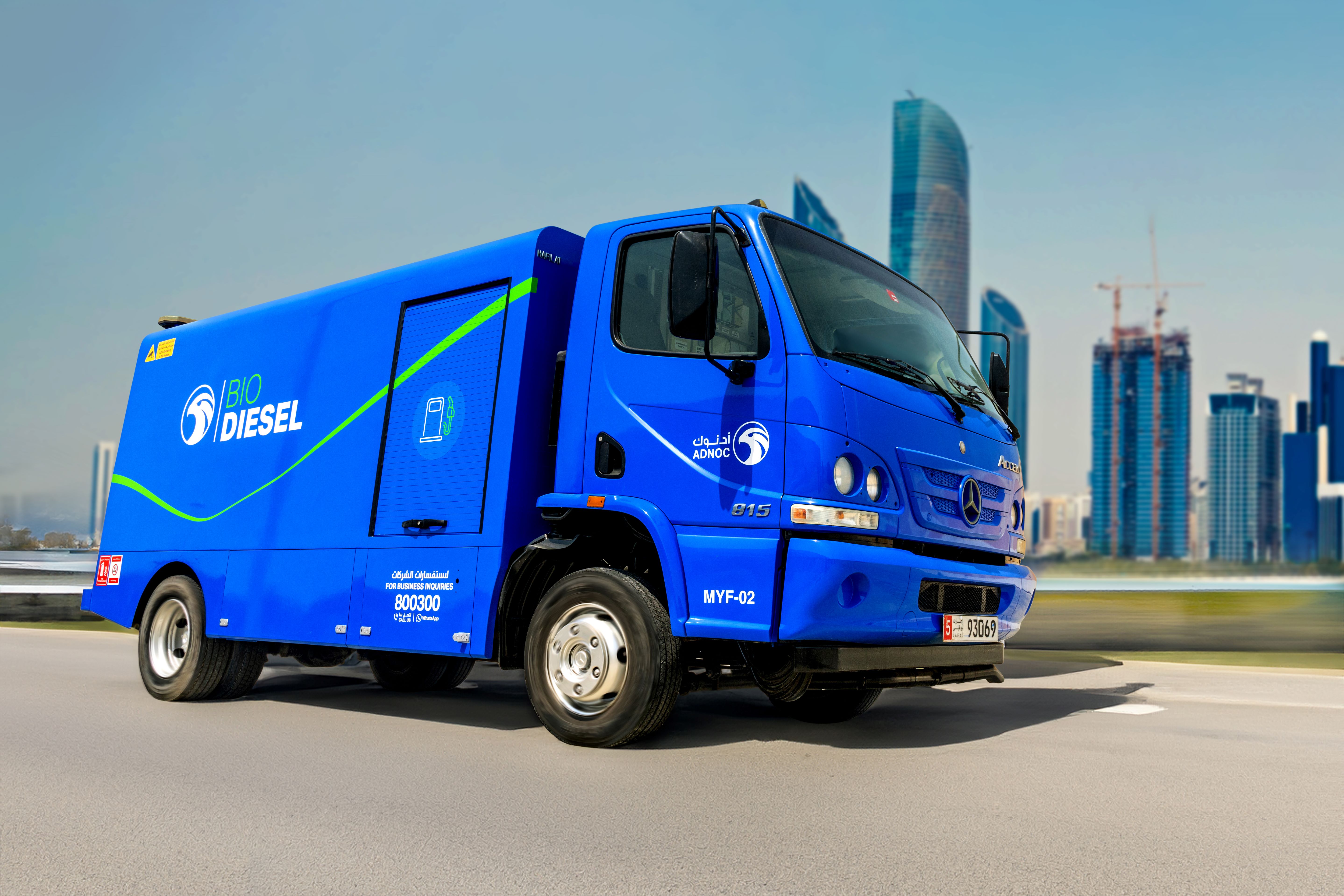 Abu Dhabi, UAE – October 04, 2023:
ADNOC Distribution (ISIN: AEA006101017) (Symbol: ADNOCDIST), the UAE's largest fuel and convenience retailer, today announced its UAE heavy vehicle fleet, supplying main fuels, will be powered by B20 biofuel, targeting a 15% reduction in CO2 emissions from the fleet.
The company's fleet plays a crucial role in supplying fuels and liquefied petroleum gas (LPG) to corporate customers. This initiative is a step forward in ADNOC Distribution's commitment to reducing its carbon footprint and is in line with ADNOC Group's efforts to deliver on its accelerated decarbonization plan.
Eng. Bader Saeed Al Lamki, CEO of ADNOC Distribution, said: "We are delivering on our commitment to using biofuel to power our fleet and help reduce our carbon intensity by 25% by 2030. By incorporating B20 biofuel into our operations, ADNOC Distribution is taking a vital step toward securing a more sustainable future. This initiative underscores ADNOC Distribution's dedication to a future-focused strategy and supports the UAE's Net Zero by 2050 strategic initiatives."
Produced from waste cooking oil, the biofuel blending process takes place at a state-of-the-art production facility located in Madinat Zayed, Abu Dhabi. Through this initiative, which reduces carbon emissions associated with transportation, ADNOC Distribution underscores its commitment to take tangible steps that enable sustainable mobility.
In January 2023, ADNOC Distribution converted a $1.5 billion (AED5.5 billion) term loan into a sustainability-linked one, committing to a penalty/incentive approach that ties the loan to sustainability indicators. With a reduction in greenhouse emissions intensity as one of the loan's two key performance indicators, decarbonization represents both a strategic imperative and a financial commitment for ADNOC Distribution.
As a testament to ADNOC Distribution's commitment to sustainability, the company is actively working on the development of innovative sustainable mobility solutions, including electric vehicle (EV) charging infrastructure. The company currently operates 38 EV charging points at service stations across the UAE. In addition, ADNOC Distribution has agreed with Abu Dhabi National Energy Company (TAQA) to work together to establish a mobility joint venture, E2GO, to build and operate electric vehicle (EV) infrastructure in Abu Dhabi and the wider UAE.
ADNOC Distribution also continues to provide alternative fuel options, including compressed natural gas (CNG), across its network. Meanwhile, in 2022, the company launched its Voyager Green Series range of lubricants, made from 100% plant-based base oil, aligning with the company's commitment to expanding and diversifying its sustainable and eco-friendly product offerings in response to the evolving demands of its customers.
For media, please contact: media@adnocdistribution.ae